Metal Roof Installation, Repair & Replacement
Metal roofs have become increasingly popular in Georgia over the years due to their numerous benefits and suitability for the climate. Of course, all roofs come with their unique advantages and drawbacks. We'll go over some things to consider later. Whether you have an existing metal roof installation that needs maintenance or repair, or you want to upgrade with a metal roof replacement, you can call Milledge Roofing Company to hire a uniformed roofer. Our courteous representatives are on standby to answer any questions or address any concerns you may have.
Benefits and Drawbacks of Metal Roofing
While asphalt shingles remain the most common roofing material nationwide, the popularity of metal roofs in Georgia is growing as more homeowners recognize their benefits. Still, it's important to consider the drawbacks as well. Here are some things to contemplate:
Cost: Metal roofing tends to have a higher upfront cost compared to other roofing materials like asphalt shingles, but it's important to note the long-term cost savings thanks to its energy efficiency and durability.
Durability: Metal roofs are known for their exceptional resistance against weather elements, including high winds, heavy rains, and hailstorms. While metal roofs are generally durable, extreme impacts can cause cosmetic damage. Metal roofs also have a high level of fire resistance.
Energy Efficiency: Metal roofs have reflective properties that help reduce heat absorption, keeping homes cooler and reducing the load on air conditioning systems.
Longevity: With proper installation and maintenance, metal roofs can last 40 to 70 years – significantly higher than alternatives like asphalt shingles which are limited to around 25 years.
Maintenance: Metal roofs are generally low maintenance. They require occasional inspections and maintenance, particularly in areas such as flashing, sealants, and fasteners.
Safety: Metal roofs offer great protection from the elements, and they are non-combustible, offering a high level of fire resistance. The drawback is its limited walkability due to a smooth and slippery surface.
We don't have the space here to go into further detail, but our knowledgeable team is happy to schedule a consultation if you are considering a metal roof replacement or installation. We are happy to schedule an on-site meeting or select a day to get started on the work as soon as possible!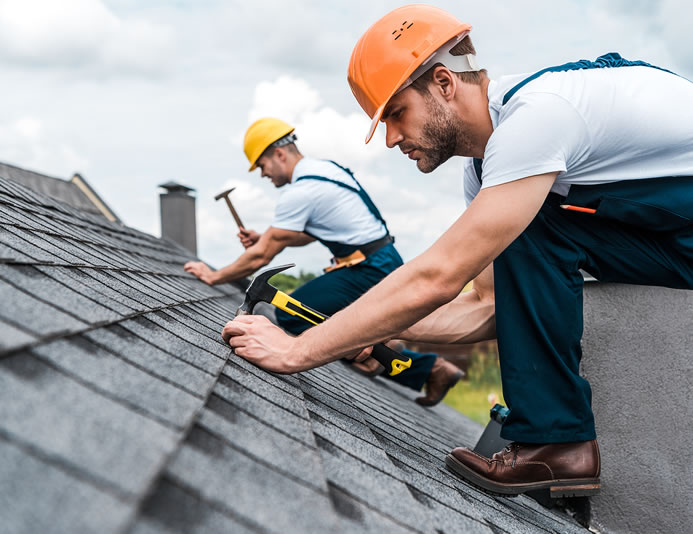 When to Repair the Metal Roof
While metal roofs are durable and long-lasting, they still may require occasional repairs due to factors like weather conditions, aging, and accidental damage. Common repairs to be mindful of include:
Fixing leaks
Addressing rust or corrosion
Fixing dents or punctures
Replacing damaged panels
Tightening loosened fasteners
It's important to note metal roofs are especially dangerous to work on because of their smooth and slippery surface. Metal roof repair is best left to experienced roofing professionals.
Time for a New Metal Roof?
Whether you want to switch over to a metal roof or replace an existing one, to professionals at Milledge Roofing Company are happy to help. Call us today to schedule a consultation with a metal roof installer and get the ball rolling!